2017 has been characterised by a slowdown in price growth at a national level, but the regional and local trends are far more revealing. The London market has slowed dramatically, with annual house price growth down from 9 per cent in the year to September 2016 to just 2 per cent a year later. By contrast, price growth in the East and West Midlands nudged up to almost 7 per cent, from 5 per cent and 6 per cent a year ago.
In London, it's not just the most expensive prime markets that have felt the squeeze, rather the slowdown has been much more widespread. A backdrop of political and economic uncertainty has led to caution, compounded by buyers hitting up against the limits of bank lending.
This time last year 19 of London's 33 boroughs were showing double digit growth. Now all boroughs except Barking & Dagenham (6.7 per cent), Bexley (5.8 per cent), Greenwich (5.0 per cent) and the very small City of London market (4.7 per cent) are showing annual growth below 4.0 per cent.
In Newham price growth has shrunk from 16 per cent to 1.6 per cent, and in Enfield from 14 per cent to 1.3 per cent. Markets such as Lewisham, Waltham Forest and Lambeth that saw big influxes of wealthier buyers over the past five years are also now seeing annual price growth below 2.0 per cent.
London's slowdown has 'reverse rippled' into the commuter zone, with levels of house price growth halving in the East and South East of England to 5.8 per cent and 4.1 per cent respectively, though the market has been stronger than we anticipated this time last year.
Relatively affordable markets such as Dover, Thanet, Hastings, Medway, Colchester and Southend are all still showing annual price growth of 8.0 per cent, but the weakest performers are now a mix of London boroughs, commuter towns such as Woking and Bracknell and the perennial poor performers such as Blackburn and Hartlepool, held back by weak local economies.
The top performers of 2016 were the more affordable commuter towns such as Thurrock, Luton and Harlow with annual price growth of over 15 per cent, but they were replaced in 2017 by locations further out. East Midlands locations such as Leicester, Wellingborough and Rutland are among just nine local authorities across England and Wales that have seen double digit house price growth.
Further north, Manchester and the affluent markets of neighbouring Trafford top the list with price growth of 8.6 per cent and 9.1 per cent respectively, whereas York, which has led the way previously, slipped back to 4.4 per cent, from 6.8 per cent a year ago.
Across the country as a whole, Savills forecasts that house prices will grow by just 1.0 per cent in 2018, as political and economic uncertainty continues to feed into buyer caution. As geographical patterns of price growth shift, the North West is expected to show the highest house price growth, totalling 18.0 per cent over the next five years.
For London, we anticipate total growth of just 7.0 per cent, with the prospect of small falls (-2.0 per cent) next year. This sits behind our forecast of just 14 per cent national house price growth in the next five years, half the level seen in the past five years.
Regional price growth 2016 vs 2017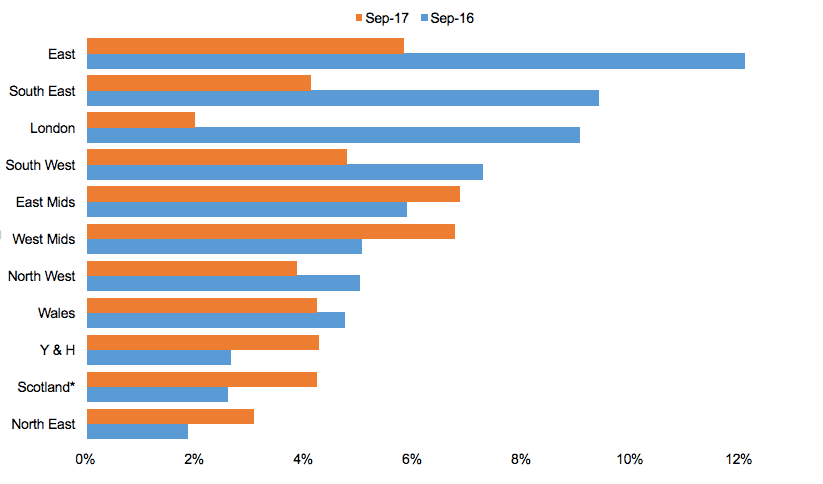 *Data for Scotland relates to August
Source: Savills Research using Land Registry and Registers of Scotland