Strong shopper demand for discount groceries has seen landlords and developers welcome the sector at out-of-town (OOT) retail parks in recent years, increasingly as anchor tenants. As our analysis below shows, in 2011, there were just 238 OOT schemes in the UK anchored by Aldi, Lidl, Iceland or Farmfoods. This had risen to 303 by 2014 and now stands at 423, showing an impressive 78 per cent growth over the last six years.
Grocery discounter scheme growth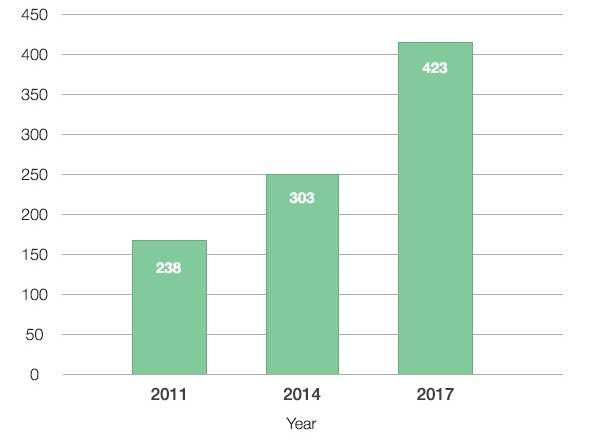 Growth of schemes from 238 to 423 nationwide (27% increase between 2011 and 2014 and 78% between 2011 and 2017)
And it is not just shoppers who have recognised the attractions of discount grocery retail. Our analysis (which considered all UK OOT retail schemes currently open, trading and anchored by one or more of Aldi, Lidl, Iceland and Farmfoods), showed other types of comparison discount retailers are increasingly likely to want a presence near these brands. For example, Home Bargains now has 76 stores on OOT parks anchored by Aldi, Lidl, Iceland or Farmfoods, up from 45 in 2014 and 32 in 2011. Likewise, B&M has 35 stores on such schemes today, rising from 18 in 2014 and nine in 2011.
As perceptions of discount grocery retailers have changed among landlords, developers and shoppers alike, we have also seen a growing number of non-discount brands such as M&S and Next choosing to sit alongside them on OOT schemes.
M&S currently has 23 stores on schemes anchored by a discount grocery retail brand, up from just nine in 2011. Vacancy rates on OOT schemes anchored by a discount grocery brand have also fallen to 8 per cent from 12 per cent in 2011, further underlining the role they can play in attracting footfall and other tenants. Savills analysis also revealed that grocery discounters are potentially starting to favour development in smaller schemes, as 95 projects of up to 20,000 sq ft feature this type of retailer today, up from 67 in 2014 and 43 in 2011.
Against a back drop of mixed retailer confidence across the board, robust footfall on OOT schemes means they remain attractive to both retailers and landlords. Looking ahead, ongoing demand for OOT space from food and non-food discount sector retailers alike looks set to continue fuelling the development pipeline.
Further information