The area from Argyle Street to St Vincent Street, across to Hope Street and as far west as the M8, or in other words, Glasgow's Midtown (G2; see map below), has long been recognised as the city's international financial district, but of late it is having somewhat of a revival.
A long-established office location with strong transport links, in recent years Glasgow's Midtown has suffered as new developments in emerging office locations including G1 on George Square and 110 Queens Street have tempted occupiers, among them Brodies LLP, DWF, Grant Thornton, and Maclay Murray & Spens, to move elsewhere.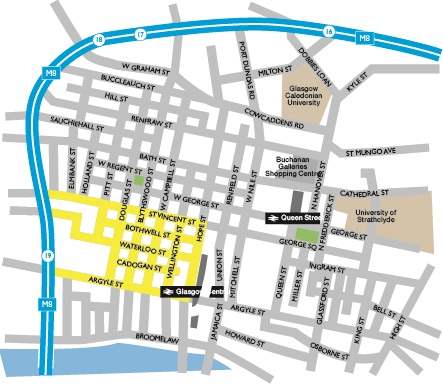 Glasgow Midtown
However, as new grade A office supply continues to diminish across the city centre, the Midtown market offers a number of development sites and refurbishment opportunities unlike elsewhere in central Glasgow and landlords are making significant commitments to accommodate demand.
This was perhaps kick-started by Morgan Stanley's decision to pre-let 150,000 sq ft for its Glasgow headquarters at Bothwell Plaza on Waterloo Street. The global financial services firm is expected to take occupation in October 2017 and rumours abound that the other half of Bothwell Plaza has been shortlisted by HMRC which has a 200,000-250,000 sq ft requirement in the market.
Close by, M&G Investments has put in a planning application to create 275,000 sq ft of new office space at the Corunna House, Cadogan Street, while The Fore Partnership is looking to commence construction of the 95,000 sq ft consented office scheme at The New Exchange, also on Cadogan Street.
The newly refurbished Highlander House, on Waterloo Street, was launched in the first quarter of 2017 and is already generating strong occupier interest with a letting agreed to Cornerstone Asset Management LLP. Also of note is M&G's 50 Bothwell Street, credited as one of Glasgow's best medium-term refurbishment opportunities, currently fully-let to Ignis Investment Services, Marks & Spencer, Superdrug and Costa. Midtown has also seen luxury Indigo Hotel open on Waterloo Street, while The Gym opened on Bothwell Street last year.
As ever, with very little new office development in Glasgow since 2014 and a squeeze on supply, occupiers and landlords continue to look for other opportunities to satisfy requirements and demand. However, with an uptick in development and refurbishment activity, Midtown landlords are ensuring occupiers are not 'stuck in the middle'.