For many students in the final year of school the summer is dominated by A levels, both the exams themselves and the wait for results which determine what comes next. New analysis highlights a clear link between university grade requirements and graduate earnings, resulting in more students chasing places at top-ranking institutions.
Our analysis of the Higher Education Statistics Agency (HESA) graduate survey shows that the average starting salary for a graduate from a university requiring three A* grades is £26,400 per year, compared with £18,900 for a university asking for three B grades. For graduates entering employment last year, every 20 UCAS points required for entry – the difference between each A-level grade boundary – equated to an additional £1,260, and the differential is expected to continue under the new points system. This is significantly higher than the £930 reported by the Institute for Fiscal Studies released earlier this year and may reflect the fact that the study including a broader range of universities.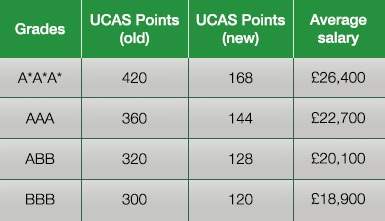 Source: Savills using HESA employment of graduates survey
Against the backdrop of rising tuition fees, students are increasingly focused on achieving value for money. The fact that more selective universities offer graduates the chance to earn substantially higher starting salaries, as well as long-term financial benefits, has driven rising demand for places, while demand continues to weaken at lower ranked universities.
Universities scoring over 600 points in the Complete University Guide 2017's overall rankings saw student numbers increase over the past academic year. This leaves 44 institutions, or 34 per cent of all UK universities in the ranking, seeing falling student numbers. And with increased government support for apprenticeships and vocational qualifications – which have much lower fees than universities, or may even be paid – we expect students to become even more selective in their university choices.
This will have implications not only for university finances, but also for those investing in university cities, including for those looking to invest in or develop student accommodation. For these investors the distinction between 'first class' and 'pass' grade opportunities is more critical than ever.
Further information
Read more: Spotlight: Student Housing 2017