Since 2008, the Savills Live/Work Index has tracked annual accommodation costs per worker in the top world class 20 cities. Our chart below, which measures the average cost per worker of renting both office space and housing, shows how the rankings have changed over time.
Savills Live/Work Index 2008-2016
Savills Live/Work ranking, in US dollars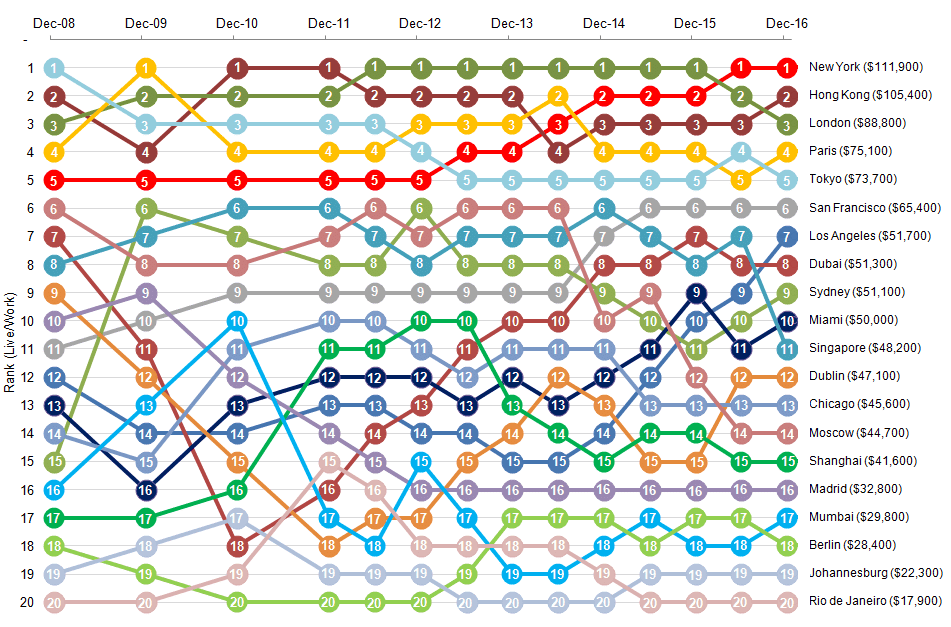 Savills World Research
Key facts and figures:
Five cities have held the top spots
New York, Hong Kong, London, Paris and Tokyo have remained the five most expensive cities (in varying combinations) for almost a decade.
New York has overtaken London
London ceased to be the most expensive city in 2016, mainly due to a weaker pound in the wake of the Brexit vote. Its costs are now nearer Paris and Tokyo.
The rise of San Francisco
The city has gone from 11th place in 2008 to sixth in 2016. Being a booming tech city where everyone wants to be has driven up real estate costs.
LA up, Singapore down
Los Angeles has leapfrogged Singapore, which has seen falling commercial and residential rents.
The dramatic fall – and rise – of Dubai and Dublin
Our cost measure captures the real estate market crashes and recoveries in these cities.
Moscow and commodities
Lower oil prices have reduced occupier demand and driven down property costs in Moscow, which has slipped from sixth place to 14th in less than three years.
Further information