Last year we forecast that demand for rented homes would rise by more than one million households by 2020, despite government measures to help 'generation rent' become 'generation buy'.
Since then, under a new administration, we have seen a significant shift away from schemes to boost home ownership. There is now clear recognition that we need to be building a mix of tenures and not just homes for sale, if the target of building a million homes over the course of this parliament is to have a chance of being met.
The Housing White Paper, published in February 2017, made clear that Build to Rent is to be given a boost, though we will need to await the findings of a separate consultation to know how the sector might be supported. The Paper appears to acknowledge that, in terms of boosting overall housing supply, measures to place more emphasis on Build to Rent through planning policy would have the biggest impact.
What is Build to Rent?
As its name suggests, these are homes built for renters, but funded and held by long term institutional investors rather than buy to let landlords who currently own the vast majority of private rented accommodation in the UK. The build to rent model can combine market and discounted rental units into a single development under common control. This allows for management efficiency and boosts financial viability, providing the potential to deliver more affordable units and help to create mixed and well-integrated communities.
Family-friendly tenancies make a lot of sense to long-term investors. Our recent analysis for the British Property Federation (see Unlocking the Benefits and Potential of Build to Rent) suggests that there is enough institutional capital pointing at Build to Rent for it to reach the £60bn size of the US Multi-Family sector. This could add 15,000 homes to housing supply every year until 2030, or over 350,000 new homes to rent, but some breathing space is needed for the sector to reach this potential.
And there is clear evidence that the sector it is finally starting to gain some traction, with some approaching 48,000 homes now under construction or in planning. As the chart below shows, with a growing pipeline of schemes across the regions, build to rent is no longer just a London story.
UK Build to Rent schemes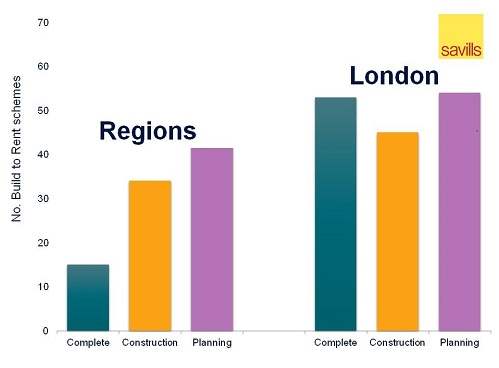 Source: Savills World Research


We welcome policy that recognises that not everyone will be able to afford their own home. We look forward impatiently to the outcome of the consultation announced last month by housing minister Gavin Barwell.
Further information
Visit Savills Residential Research