Out of town (OOT) retail parks have long been popular with both occupiers and consumers. While the development of new parks is currently happening far less than it was 10 to 15 years ago, there is still scope for landlords and developers to create more OOT schemes and capitalise on the positive outlook for the sector.
With that in mind, we have identified the 10 UK locations with greatest potential for uplift in OOT retail space, highlighting key opportunities for landlords and developers. This involved examining the current OOT retail provision in every UK market (excluding Greater London) relative to the size of its shopper population in order to establish density, and then considering which would require the most additional space to bring them in line with the national average of 2.96 sq ft (0.27 sq m) per shopper.
The analysis puts Brighton in the top spot, requiring an additional 587,000 sq ft (54,532 sq m) of OOT retail space to bring it in line with the UK average, followed by Liverpool (407,000 sq ft/37,810 sq m) and Stourbridge (402,000 sq ft/37,346 sq m).
The top 10, listed below, shows that Leicester and Bath can both support more than 300,000 sq ft (27,870 sq m) of additional space, while Newcastle, Hastings and Witney all need over 200,000 sq ft (18,580 sq m) to bring their density in line with the average. Lancaster and Portsmouth also make the top 10, requiring 196,000 sq ft (18,298 sq m) and 185,000 sq ft (17,187 sq m) of extra space respectively.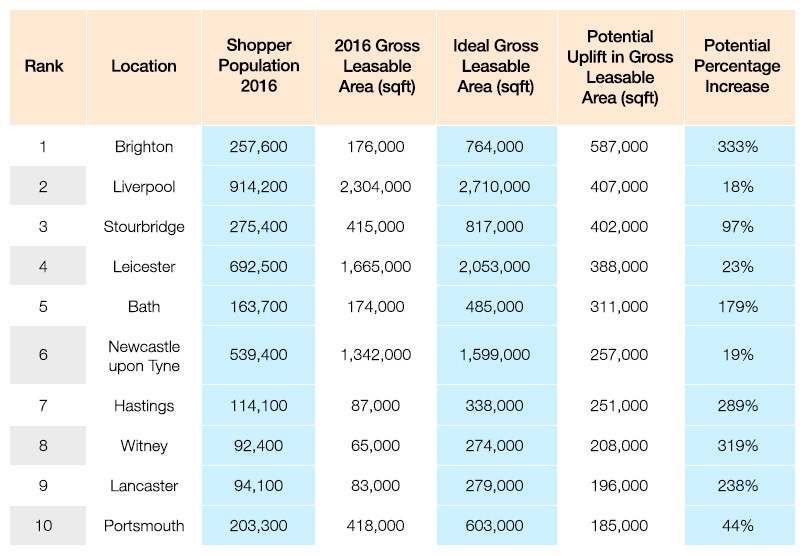 The second half of 2016 saw a significant number of new retail entrants into OOT schemes, including Fabb Sofas and Natuzzi, while others such as Silentnight considered their first stores. The majority of existing value and bulky goods players also continued expanding.
Looking ahead, we expect total sales of retail warehouse-type goods such as carpets and furniture to grow 3.9 per cent per annum over the next five years. Indeed, some retailers in this sector reported double-digit like-for-like sales growth in 2016. Already some landlords and developers are capitalising on this, and there are several large OOT retail developments proposed across the UK including Liverpool Shopping Park and Castle Acres Shopping Park in Leicester.
For landlords and developers, considering how they could bring new OOT retail space to these cities and the other eight we identified within our top 10 could well prove very fruitful.
Further information
Read more: UK Retail Warehouse Report