The listing process aims to protect the oldest and most unique buildings across the country and historic homes are some of the most sought after on the market. But just how sizeable is the premium buyers are willing to pay to live in our built heritage?
Our latest research shows that homes located in areas where the number of listed buildings is greatest are worth on average 46 per cent more than others in the same county. In contrast, homes situated in areas that have no listed buildings are more than 20 per cent cheaper than their county average, indicating a strong correlation between built heritage and house prices.
Our analysis of over 370,000 listed buildings across England shows that out of over 7,000 electoral wards, only 539 contain more than five listed buildings per 100 people. By region, the highest number of listed buildings are found in the South West with over 90,000 protected buildings, capturing picturesque villages in the Cotswolds and historic city centres such as Bath.
The tables below show the top 10 rural and urban wards with the highest concentration of listed buildings. Topping the rural list are the Cotswold wards of Riversmeet and Ampney-Coln, both of which command substantial premiums over their regional average, indicating just how strong the demand is to live there.
However, unlike their rural counterparts, some urban wards in historic areas such as Wells and Cirencester actually have negative premiums, indicating where there are discounts to be found. In these areas you can find a good-value location full of local amenities without compromising on the highly coveted historic surroundings.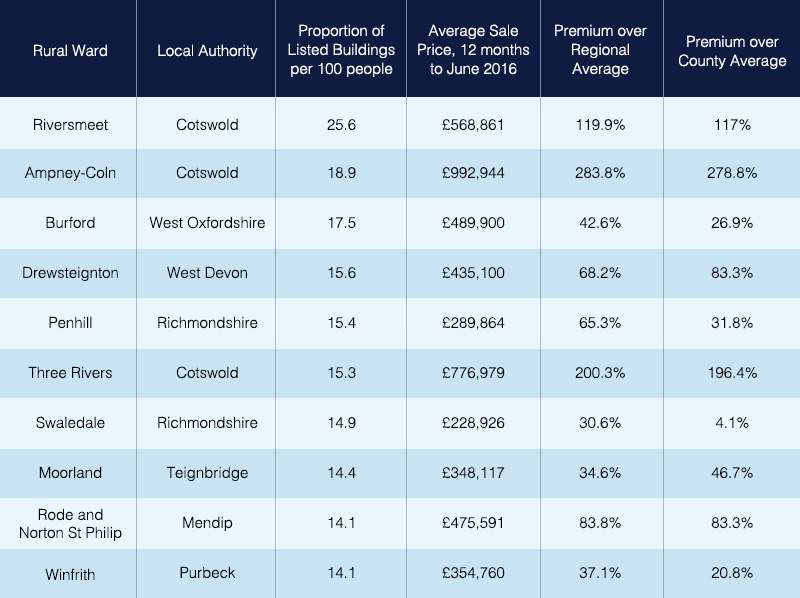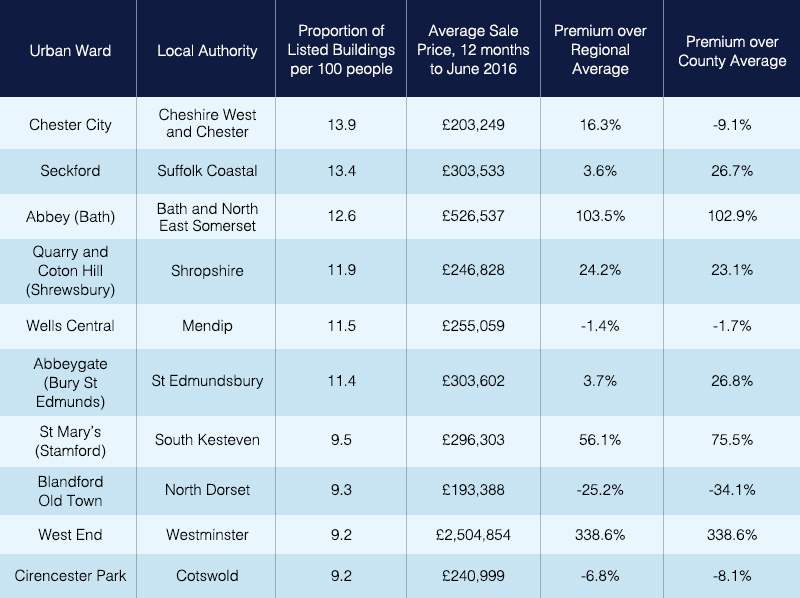 Our interactive map below shows the proportion of listed buildings by population, ranked, in each electoral ward. The redder the area, the higher the concentration of listed buildings, while the bluer areas indicate the most sparse wards.