Are you a night owl planning a house move? We explore house prices along the latest line to open a Night Tube service, the Northern Line, opening up north and south London for weekend night life.
The best value location along the length of the line that will operate at night is Burnt Oak, where homes within 500m of the station sold for an average of £299,082 over the 12 months to August 2016, according to the Land Registry. In second and third place are Colindale and Morden, also located in zone 4. In total only six of the 24-hour stations along the length of the line have average house prices under £500,000.
The table below shows that in terms of two-year house price growth, homes located within walking distance of stations in zones 3 and 4 have shown the strongest increase, growing by more than 24 per cent, outperforming the London average of 11.6 per cent. Interestingly, stations in zone 1 outperformed those in zone 2. This is a result of high value areas in northwest London, such as Hampstead and Belsize Park, which have been more affected by increases in stamp duty for higher value homes introduced almost two years ago.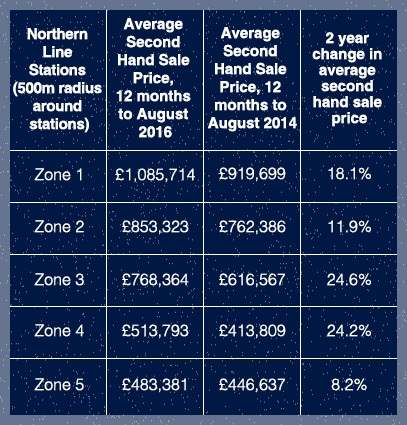 The table below ranks the stations along the new Night Tube line by average price of properties sold, with best value first. Where no figure is indicated, this is due to a low sample size.