The latest Savills analysis has shown that New York has overtaken London and Hong Kong to become the most expensive city in the world for businesses to accommodate staff.
The recent Live/Work Index* which compares total housing and office rental costs on a per capita basis in leading world cities (see table below), also indicates that London costs have dropped 11 per cent in dollar terms since December 2015. Meanwhile, Hong Kong and New York have increased the price gap with London, showing a increase of 1 per cent and a rise of 2 per cent respectively.
The swings in world currencies since Britain's vote to leave the EU have helped to change an already dynamic range of market movements across cities to an extremely varied one.Tokyo, in fourth position, saw the biggest increase in dollar terms as rent rises, particularly in prime residential and creative office sectors, were amplified by significant strengthening in the Yen.
Further down the rankings, even greater amplification has been seen in Rio de Janeiro where challenging economic conditions have damaged real estate occupier demand and rent levels but been accompanied, perhaps surprisingly, by strength in the Real. This means that overall Live-work costs have fallen by -5 per cent in local currency but increased by 14 per cent in dollar terms.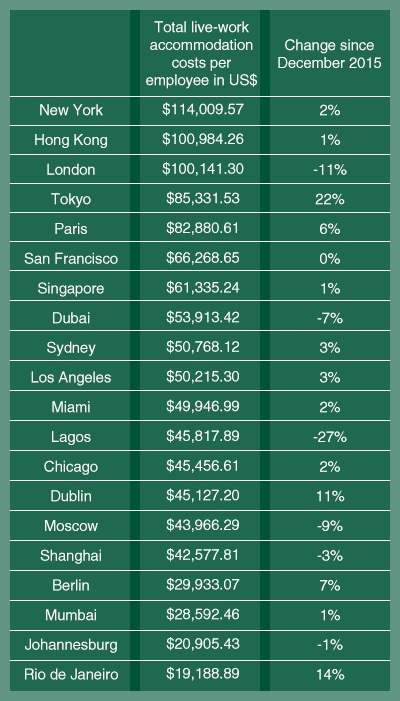 Source: Savills World Research
*Savills uses a core business unit measure, the Savills Executive Unit - a 7-person strong staff team representative of a start up business, designed to be a comparable measure across all cities. For the live-work index we have measured costs for two teams, one based in a prime financial sector location, the other in a secondary/creative location to give a representative cross city costing. The Savills live-work index measures the annual per person cost of renting and occupying home and office space per employee (and their households) in twelve world cities, taking an average across the Savills Executive Unit.
Further information