While Central London continues to be the location of choice for many businesses, an increasing number of occupiers – whether relocating from the centre or moving to the city for the first time – are beginning to consider taking space outside the main West End/City axis, which offers cheaper rents alongside a package of other benefits.
What these occupiers tend to have in common is a desire to be within easy access of Central London, in a building that benefits from good design and is close to similar businesses, complementary shops, bars and restaurants, but without paying the Central London premium.
Being part of a busy mixed use community is critical: businesses want to be in the thick of it, not isolated on the periphery of the action, with a range of quality amenities for their employees to choose from.
Time spent by developers in planning and delivering a good ground-floor leisure and retail offer alongside office space in mixed use schemes will therefore pay dividends further down the line. Additionally, the provision of a cultural or educational institution can be a powerful draw and catalyst for underwriting a successful scheme, as evidenced by the role Central St Martins has played in Argent's regeneration of King's Cross.
We have identified several outer London locations where the conditions are ripe for them to become 'hotspots' for just such schemes. Some are already on their way, others have the potential to become hotspots in the near future. Brent Cross, Canada Water, Clapham Junction, Croydon, Royal Docks, Stratford, Tottenham Hale and Wembley all have the transport links to support the delivery of new-high density mixed use developments while being within easy distance of the city centre.
These locations also all offer at least a 50 per cent discount on West End office rents, and at least a third off City rents, providing a more affordable option if you're a business looking for London workspace.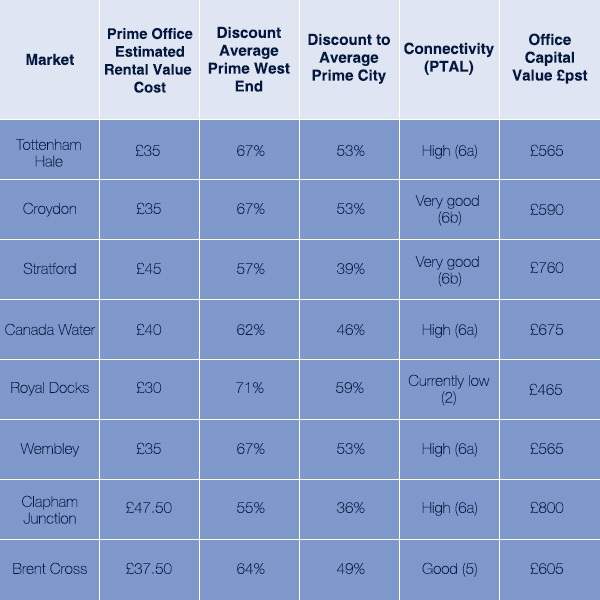 Table source: Savills, Transport for London. TPAL: Ranking in Transport for London's Public Transport Access Levels (PTAL) index
One of the other benefits of being located outside the city centre is access to the workforce. An occupier taking space within a scheme that includes housing is likely to be looked on very favourably by those residents who see the advantages of saving both time and money on a longer commute into central London.
The other bonus of close proximity to universities and colleges is that they can be a source of future employees. With the 'war for talent' seemingly not abating, forging relationships with young graduates, in the knowledge that they have the skills needed for a business which, in turn, can offer them a fun and exciting working environment, will increasingly become a competitive advantage for emerging employment locations.
Further information
Visit Savills Commercial Research