The Land Registry indicates that the number of £1million+ sales across the residential property market in England and Wales soared in the last five years.
There were 20 boroughs in London where the Land Registry recorded 100 or more £1m+ transactions and a further 10 local authorities outside of the capital.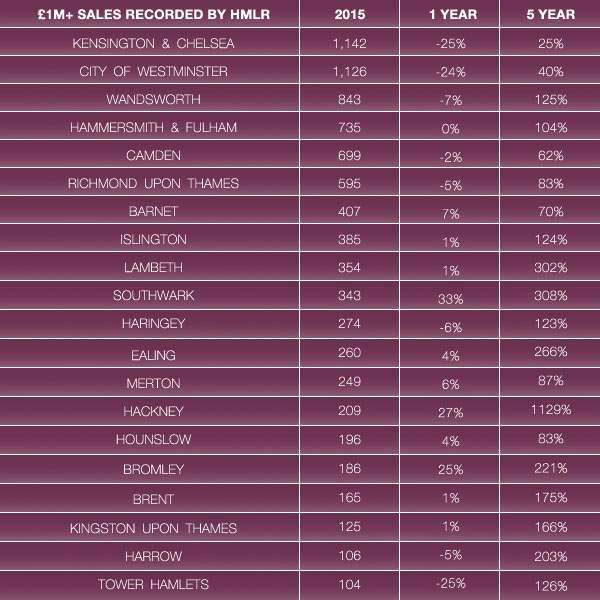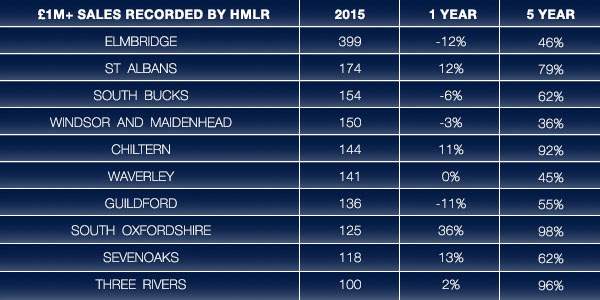 Source: Savills using Land Registry data
This is despite small falls of 3.2 per cent in the number of £1m+ sales seen in 2015. This was brought about primarily because of falls of 6.2 per cent in London, where higher value property has become more impacted by the increase in stamp duty. However there were some notable exceptions, with the boroughs of Hackney and Lewisham reporting a 27 per cent and 23 per cent rise respectively in 2015.
Similarly despite the higher rate of stamp duty in 2015, and uncertainty around the general election, several regions outside London have reported strong growth.
Outside the Capital, of those local authorities which recorded more than 30 sales of £1m+, Epping Forest, East Hertfordshire, Wokingham, Bristol and Cambridge saw the biggest five-year increases with total sales almost tripling (+191 per cent). Other urban locations showing strong growth were Oxford, Winchester and Brighton and Hove.
In Oxford and Cambridge growth has been such that the £1m+ semi or terraced house has become a regular feature, with these two property types accounting for 60 per cent of £1m+ sales in the two cities in 2015.
The urban £1million+ hotspots

Interestingly, despite the switch from a slab stamp duty structure to a progressive tax, it appears fixed price points and thresholds continue to be ingrained into the psychology of buyers and sellers.
Last year over one quarter of sales above £1m were set at precise £100,000 intervals. Furthermore, the research has shown that for sales at or above £1m, 59 per cent occurred at precise £25,000 intervals over the £1m threshold, suggesting that at this end of the market incremental bids tend to be of this magnitude.
Further information
Visit Savills Residential Research