There's a new kid on the block in the UK hospitality market and he's here to stay. Known variously as 'serviced apartments', 'apart hotels' and 'extended stay', the sector is currently 19,000 units strong and accounts for just 3.1 per cent of the UK's accommodation supply. However, consumer and investor awareness is rising at such a rate that we now expect serviced apartments to become the fastest growing segment of the UK hospitality market over the next two years.
In fact, purpose-built extended stay supply is expected to expand by an average of 8.4 per cent per annum until the end of 2017. This outpaces both the 6 per cent growth forecast for budget hotels and the 2.6 per cent forecast across all hotels. It also outperforms the average growth seen in the hotels sector over the preceding five years.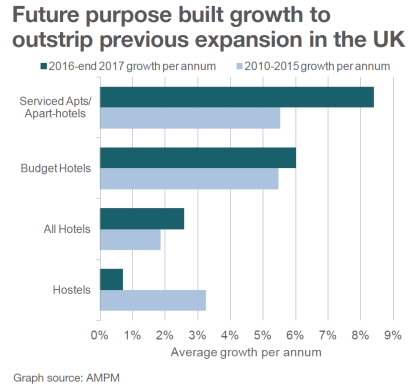 Operators to lead expansion
In a survey completed in conjunction with the Association of Serviced Apartment Providers (ASAP), 48 extended stay operators revealed their national and global expansion plans through to the end of 2018. Across all those surveyed, target expansion points to 52 per cent – a huge increase of 145,000 units. Examples include the Ascott Group, which plans to double its global portfolio to 80,000 units by 2020.
ASAP also surveyed eight hotel-owned brands, which revealed an average growth target of 40 per cent. IHG's extended stay concept, Staybridge Suites, is set to be one of the fastest growing in its segment with 111 new sites in the global pipeline (based on data as of Q315).
New entrant Zoku is also very much one to watch out for. The first site will open in Amsterdam this year with 133 'smart lofts' and plans to have a further 750 units operational or under offer in key European cities by the end of 2018. Zoku embodies a move away from the 'home away from home' concept traditionally associated with serviced apartments. Instead, it focuses on providing a hybrid between a hotel and short-stay office for people who need to live and work in a city for between five days and three months.
What's driving this expansion?
Supply constraints relative to more developed markets in the US and Asia Pacific have been a driving force behind stock expansion in the UK and Europe. But more recently it has been the evolution in consumer preference, coupled with greater concept and brands awareness, that is really supporting the sector's projected growth.
In particular Airbnb, previously touted as the big threat, has been a key part of this in that it has helped raise the profile of alternative short-stay accommodation such as serviced apartments. This is clearly demonstrated by the fact that a number of serviced apartment operators are listing properties on Airbnb.
Further information
Contact Savills Hotels and Serviced Apartments