The strength of London's recovery post-2008 is visible in the latest data we've been crunching on industry output: businesses based in the West End and the City have seen output rise an average of 57 per cent over the past five years.
However, London's prime position as a world city, its continued attraction to occupiers and competition for limited space has also served to push up commercial rents: they've risen by an average of 69 per cent in the West End and 44 per cent in the City in the same five-year period. In the West End there are only three industries (technology, extraction and utilities, and creative) where the increase in rents has been lower in percentage terms than the increase in output.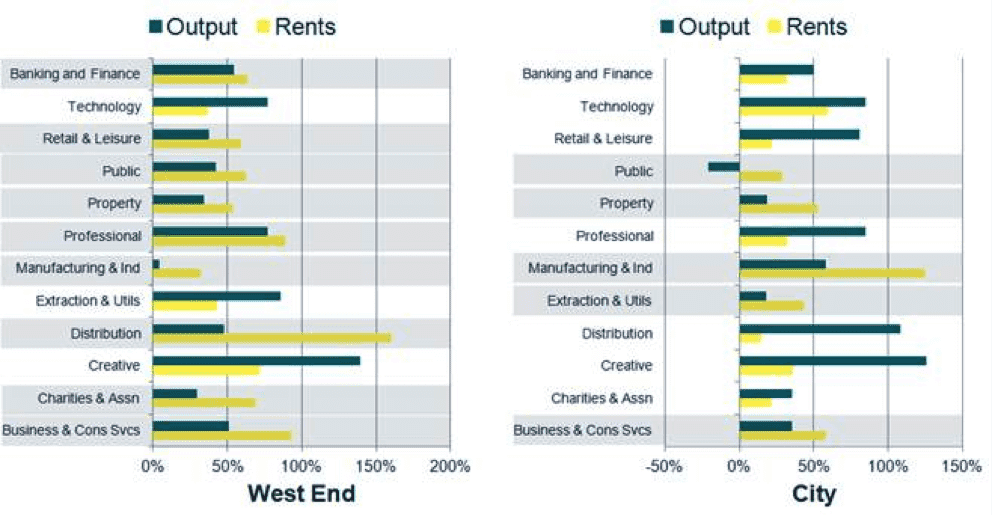 Source: Savills Research. Percentage change in London City and West End commercial rents compared with industry output over the past five years
It's hard to categorically say whether commercial rents rising at a faster pace than occupier output have rendered parts of London unaffordable to businesses in certain sectors, as it's all relative. For example, a 60 per cent increase on a £2 million rent bill would still, arguably, be reasonably affordable to a business which posts a 20 per cent increase on a £1 billion output. But the widening gap between rent and output implies that rents for some, in certain areas, could be moving out of reach.
However, there's unlikely to be a sudden swathe of companies upping sticks and moving all their London operations elsewhere: a lot of organisations opt to swallow high Central London rents in return for the benefits of having a high-profile presence that attracts both business and talent. What we are more likely to see is more organisations following the lead of Deutsche Bank and others and 'northshoring': splitting operations between cheaper locations (whether regional cities or outer London) while retaining a Central London office.
With combined rent and property charges for a worker in inner London now over £15,000 – taking the total cost of a worker based there to over £50,0000, compared with the national average of £33,695 – for many it will make sense to rebalance their workforce across locations which have lower property and staff costs.