The London version of Monopoly was introduced in the 1930s. The London property market has been completely transformed since then, with price rises and buyer demand creating a plethora of new hotspots. According to Savills Research, the following changes would have to be made if the Monopoly board were to be drawn up today: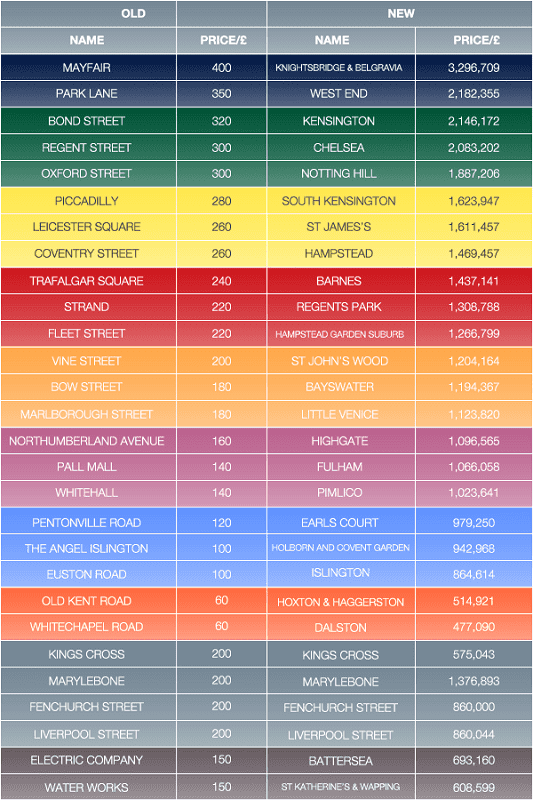 Major changes include the introduction to the board of Notting Hill, Barnes and Fulham.
The gentrification of Notting Hill during the late 20th century saw many classic stucco houses returned to single dwellings. Today, stylish architecture and a vibrant local scene have made it one of the most sought after parts of London. So Notting Hill now sits firmly in the green, and second most expensive section of the board, taking the place of Oxford Street.
Barnes used to be seen as a 'country retreat', but improved transport links across the capital have made it a favourite with families. The combination of a rural ambience and an easy commute to the City has put the area in the red section of the board, replacing Trafalgar Square.
In Fulham, a 1970s drift of buyers from Kensington & Chelsea saw a new wave of young, middle-class professionals buying in the borough. The area still represents better value for money than its neighbouring borough, but is increasingly popular with young families attracted to the highly regarded primary schools. Fulham is now in Pall Mall's former position, in the pink section of the board.
If the board were drawn up again today, here are some of the properties we would be spending our Monopoly money on: