The number of fashion stores opening on Dover Street has risen from three to ten and on Albemarle Street from one to six – an increase of 300 per cent. International retailers now account for 30 per cent of Dover Street stores and 17 per cent of Albemarle Street's. Acne, Christian Louboutin, Amanda Wakeley, Garrard & Co are just some of the exclusive brands on offer.
The main reason for this fashion refocus is the lack of availability on nearby Bond Street. Brands that wish to remain within the West End's luxury quarter have been forced to look to new areas.
This increased demand has put pressure on rents on Dover Street and Albemarle Street, which have seen rent rises of 307 per cent since the last quarter of 2008. Zone A rents increased from £135 per sq ft to around £550-£600 per sq ft. This is four times greater than the growth reported in Bond Street over the same period.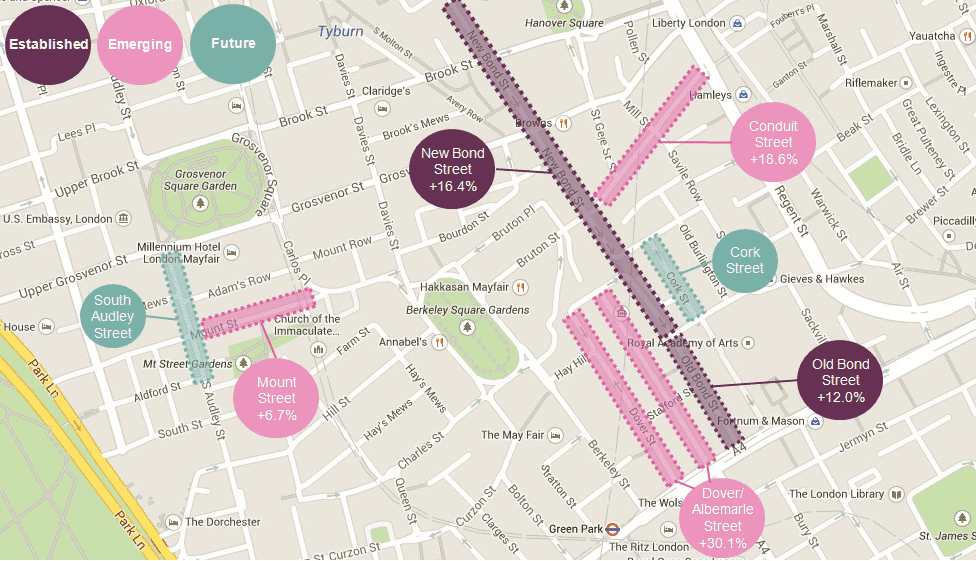 Savills Commercial Research: Prime Zone A rental growth per annum since Q411

Two further Mayfair streets - Mount Street and Conduit Street - have also benefited from the spread of luxury retail. Zone A rents in Mount Street have risen by 6.7 per cent per annum and in Conduit Street by 18.6 per cent per annum over the last three years.
Where next for London's Luxury Quarter? South Audley Street is certainly one to watch. Already an established retail location, it will see its luxury fashion credentials rise in 2015 when luxury brands Balmain and Erdem open their first UK stores on the street.